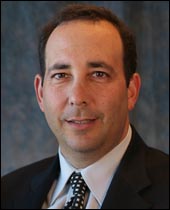 Douglas Sirotta
Partner, Technology Practice
BDO Seidman


An annual research report released recently by BDO Seidman, LLP, a leading accounting and consulting organization, identifies the most common risk factors among the 100 largest U.S. public technology companies as strong competition and consolidation (97 percent, also ranked as the primary risk factor in 2008 with 92 percent) and failure to develop new products or services (91 percent, ranked fifth last year with 84 percent). As the technology industry faces uncertainty from the recession, businesses are increasingly concerned with risks relating to general economic conditions (85 percent, up from 73 percent in 2008), revenue and stock price volatility (83 percent, up from 69 percent last year) and an inability to attract or retain key personnel (82 percent, up from 72 percent).

Interestingly, as U.S. technology businesses prepare for operational setbacks as a result of the economy, they are also anticipating previously unreported risks, including catastrophic interruption of business due to natural disasters, war or terrorist attacks (60 percent), disruption of distribution of products or services (52 percent) and the inability to maintain operational infrastructure and information systems (41 percent).

These findings come from The 2009 BDO Seidman RiskFactor Report for Technology Businesses. The report examines the risk factors listed in the fiscal year 2008 10-K SEC filings of the 100 largest publicly traded U.S. technology companies; the factors were analyzed and ranked in order by frequency cited.

"Previous economic downturns have tended to yield significant competitive repositioning of companies within the technology industry," said Douglas Sirotta, a Partner in BDO Seidman's Technology Practice. "This year's RiskFactor Report confirms that this is a chief concern among technology executives. Companies' inabilities to manage these risks could leave them in a diminished position as we emerge from the downturn," added Sirotta. "However, there is tremendous potential to come out of the recession with better products and services, a stronger organization and greater market share – an opportunity for technology companies 'to seek advantage when others are fearful,' to paraphrase Warren Buffett."

The following is the list of the top 20 Risk Factors of the 100 Largest U.S. Technology Companies:
| | | | |
| --- | --- | --- | --- |
| | | | 2008 Rank |
| 1. | Competition and consolidation in technology sector | 97% | 1 |
| 2. | Failure to develop or market new products/services | 91% | 5 |
| 3. | Risks associated with international operations | 90% | 4 |
| 4. | Management of current and future M&A or divestitures | 86% | 3 |
| 5. | Intellectual property infringement | 86% | 6 |
| 6. | U.S. general economic conditions | 85% | 7 |
| 7. | Cyclical revenue (and subsequent fluctuating stock price) | 83% | 11 |
| 8. | Inability to attract or retain personnel, incl. management | 82% | 8 |
| 9. | Changes to Federal, State and Local regulations, incl. tax | 81% | 2 |
| 10. | U.S. and foreign supplier/vendor concerns | 78% | 13 |
| 11. | Legal proceedings | 68% | 10 |
| 12. | Predicting customer demand | 62% | 15 |
| 13. | Accounting, internal controls and Sarbanes-Oxley compliance | 62% | 19 |
| 14. | Natural disasters, war, conflicts and terrorist attacks | 60% | Not ranked |
| 15. | Product liability, quality and safety issues | 58% | 12 |
| 16. | Disruption of distribution of products/services | 52% | Not ranked |
| 17. | Pressures on pricing, margins and cost cutting | 51% | 9 |
| 18. | Indebtedness | 50% | 20 |
| 19. | Inability to acquire capital or financing | 42% | 14 |
| 20. | Inability to maintain operational infrastructure and systems | 41% | Not ranked |

Further findings of the 2009 BDO Seidman RiskFactor Report for Technology Businesses:

Consumer Demands, Pricing and Cost-cutting. In a downward economy, consumers purchasing software, hardware, IT, telecom and Internet products and services often demand continued innovation at lower costs. As a result, technology companies are under increased pressure to predict consumer demand (62 percent), while managing pricing, margins and cost-cutting (51 percent).

Protectionism and International Uncertainty. As protectionism continues to affect global trade and companies' outsourcing strategies remain uncertain, a large majority of technology companies are concerned with risks associated with international operations (90 percent, up from 85 percent in 2008). This is the third most frequently cited risk factor, as companies mention political and tax uncertainty, currency fluctuation, rising protectionism and a corresponding decrease in global trade as potential pitfalls for fiscal year 2009. Companies are also showing increasing concern about U.S. and foreign suppliers, including managing a global supply chain (78 percent, up from 68 percent last year).

Legal Issues and Product Liability. Intellectual property infringement (86 percent, ranked sixth in 2008 with 84 percent) remains a top threat, as it is the fifth most frequently cited risk factor. However, risks associated with legal proceedings (68 percent) and product liability, quality and safety issues (58 percent) rank lower than last year among technology companies' concerns. Although fewer companies mention these risks, businesses in the technology industry cannot afford legal or manufacturing problems in this economic environment.

Regulations and Compliance. As technology companies continue to worry about operational and production risks in the recession, they are less concerned with changes to federal, state and local regulations, including tax (ranked ninth, down from the second in 2008). Almost two-thirds (62 percent) cite risks associated with accounting standards and internal controls, including Sarbanes-Oxley, as a concern.

M&A, Debt and Capital Risks. The distressed financial markets continue to affect dealmaking in the technology sector and increase companies' susceptibility to indebtedness. In fact, eighty six percent of technology companies continue to be concerned with the challenges of managing current and future M&A transactions (consistent with 2008 percentages), while half (up from 44 percent in 2008) of technology companies have concerns about their indebtedness. Meanwhile, forty two percent are concerned with the inability to acquire capital or financing (down from 66 percent last year) in the tightened credit market.

Environmental Concerns. As green issues continue to gain both local and global prominence, companies in the technology sector are increasingly concerned with risks related to compliance with environmental regulations. Forty percent cited such concerns, including potential losses from the institution of carbon cap and trade programs.

BDO Seidman, LLP has been a valued business advisor to a wide range of publicly traded and privately held technology companies ranging from software, hardware and IT service companies to telecommunications businesses and emerging Internet enterprises. BDO Seidman clients range in size from Silicon Valley start-ups to Fortune 500 technology conglomerates.

BDO Seidman, LLP is a national professional services firm providing assurance, tax, financial advisory and consulting services to a wide range of publicly traded and privately held companies. Guided by core values including, competence, honesty and integrity, professionalism, dedication, responsibility and accountability for almost 100 years, we have provided quality service and leadership through the active involvement of our most experienced and committed professionals.

BDO Seidman serves clients through 38 offices and more than 400 independent alliance firm locations nationwide. As a Member Firm of BDO International, BDO Seidman, LLP serves multi-national clients by leveraging a global network of 1,095 offices in 110 countries. BDO International is a worldwide network of public accounting firms, called BDO Member Firms. Each BDO Member Firm is an independent legal entity in its own country. The network is coordinated by BDO Global Coordination B.V., incorporated in The Netherlands, with its statutory seat in Eindhoven (trade register registration number 33205251) and with an office at Boulevard de la Woluwe 60, 1200 Brussels, Belgium, where the International Executive Office is located.