News


< Back
Risk-Management : Technology : Information Systems :
Ernst & Young Enters Into Alliance Agreement With Pegasystems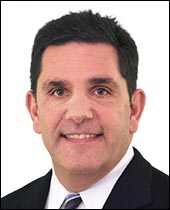 John Barone
Vice President of Global Alliances
Pegasystems


Pegasystems Inc. (NASDAQ:PEGA), the software company powering the digital enterprise with Better Business Software, has announced that it has signed an alliance agreement with Ernst & Young LLP that expands their existing relationship and helps accelerate collaborative efforts in North America. As a Gold level Pega partner, EY will be strategically positioned to serve common customers in the banking, financial services and insurance industries.

"Major financial services organizations are facing significant business, regulatory and operational challenges. As enterprises become increasingly digital, the need to unite customer engagement with core business processes will become critical," said Hank Prybylski, Americas Financial Services Advisory leader and Global Financial Services Risk Management leader at Ernst & Young LLP. "With Pega, the ability for our business and technology consulting professionals to rapidly deliver enterprise solutions means a clear advantage for our customers."

"EY understands complex business challenges and works with their clients to provide innovative ideas that deliver transformational results," says John Barone, Vice President of Global Alliances at Pegasystems. "EY's commitment to customer success and Pega's Build for Change technology approach to transforming digital enterprises are a great combination for our clients. We are very excited to be expanding our relationship with EY."
EY and Pegasystems will now offer full end-to-end, global technology solutions, from upfront consulting through deployment and ongoing services. These solutions provide clients with the ability to meet today's challenges for digital enterprises.
The insights and quality services they deliver help build trust and confidence in the capital markets and in economies the world over. EY refers to the global organization, and may refer to one or more, of the member firms of Ernst & Young Global Limited, each of which is a separate legal entity. Ernst & Young Global Limited, a UK company limited by guarantee, does not provide services to clients. For more information about the organization, please visit ey.com.
About Pegasystems
Pegasystems Build for Change® Platform is the heart of Better Business Software. It delivers business agility and empowers leading organizations to rapidly close execution gaps and seize new opportunities. Pegasystems leverages its recognized leadership in Business Process Management (BPM), Multi-Channel Customer Relationship Management (CRM), Business Rules, and Adaptive Analytics to uniquely give its clients the power to engage customers, simplify operations and Build For Change.