News


< Back
Risk-Management : Risk Inventory : Risk Evaluation : Information Assets
Allegro Named Energy Risk's Energy Trading and Risk Management Software House of the Year

Allegro Is The ETRM Industry's #1 Software Vendor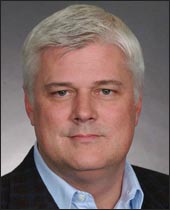 Ray Hood
Chief Executive Officer
Allegro Development Corporation


Allegro Development Corporation, a leading provider of commodity value chain and risk management (CVCRM) software, announced recently that Energy Risk Magazine's editorial board selected Allegro as the Energy Trading and Risk Management Software House of the Year.
"Energy Risk considers the ETRM Software House of the Year to be the most forward thinking and innovative vendor on the market, and 2013 was Allegro's year," said Mark Pengelly, Editor, Energy Risk. "It's exciting to see Allegro in this stage of tremendous growth with new leadership and new direction; I think we'll continue to watch them make enormous strides."
This award is a testament to Allegro's 2013 successes whereby the company reported 33 percent revenue growth, expanded its geographic footprint into Southeast Asia, the UK, Latin America and Canada, and acquired 17 new clients, including China National Offshore Oil Company (CNOOC), the country's largest producer of offshore crude oil and natural gas.
"We are elated to see our vision coming to life," said Ray Hood, Allegro's Chief Executive Officer. "When I joined as CEO at the end of 2012, I knew the company had tremendous growth potential, unrecognized talent and opportunities that scale far beyond traditional energy trading and risk management. I sought out and appointed leaders to the Executive team that span the energy, logistics and software industries to fill key positions. This team allowed Allegro to capture market share across the entire commodity value chain extending the company's services and functionality to reach new and emerging markets. We are expecting to reach revenues of $100 million by 2015."
About Allegro
Allegro is a leading provider of commodity value chain and risk management (CVCRM) software for power and gas utilities, refiners, producers, traders and commodity consumers. With more than 30 years of deep industry expertise, Allegro provides real-time intelligence and decision-making capabilities, from the source of the commodity (ground), through transportation, to the commodity consumer. Allegro's software provides the global intelligence companies need to manage physical and financial positions, and to optimize their assets and portfolios using tools that quantify and mitigate risks. Headquartered in Dallas, Texas, Allegro has offices in Calgary, Houston, London, Singapore, Sydney and Zurich, along with a global network of partners.
For more inforamation go to www.allegrodev.com